Essential Items You Should Always Keep in Your Car
from basic to high-tech, this gear will help keep you safe on the road.
Whether we're commuting to work or taking a road trip with some friends, we spend a lot of time in our cars. Unfortunately, cars aren't perfect. No matter how well you take care of your vehicle, they tend to have unforeseen problems from time to time. There are also unpredictable factors like the weather or other drivers that could leave you stranded in your car on the side of the road at an inopportune time.
It's important to be prepared, and to help with that, there are a handful of essentials that you should keep in your car at all times.
Device Charger
Car Jump Starter
Jumper cables are always good to have in car, but if you end up with a dead battery in the middle of nowhere you're dependent on being able to dial up roadside service or wait for a good Samaritan. T
Gas Container
An unexpected storm could leave you deadlocked in traffic, far from civilization.
Windshield Washer Fluid
Between salt in the colder months and pollen in the warmer months, plus everyday dust and grime, you probably go through plenty of windshield wiper fluid. You may not want to carry the large bottle you can switch it to a smaller convenient one.
AAA Winter Readiness Kit
A handy kit for severe winter weather contains all you might need should you get stranded in your vehicle during the cold weather: a folding shovel, ice scraper, blanket, fire starter, and more.
Wool Blanket
If you're stuck in your car in the winter, it can get cold fast. There's a list of winter gear that you should have in your car when you're traveling, from extra hats and gloves to another coat. The most basic item to always have stashed somewhere in your vehicle is a good wool  old army or camping blanket. You can wrap up and keep your body heat trapped under the blanket. Another advantage wool has is that it will keep you warm even if it gets wet.
Fix-A-Flat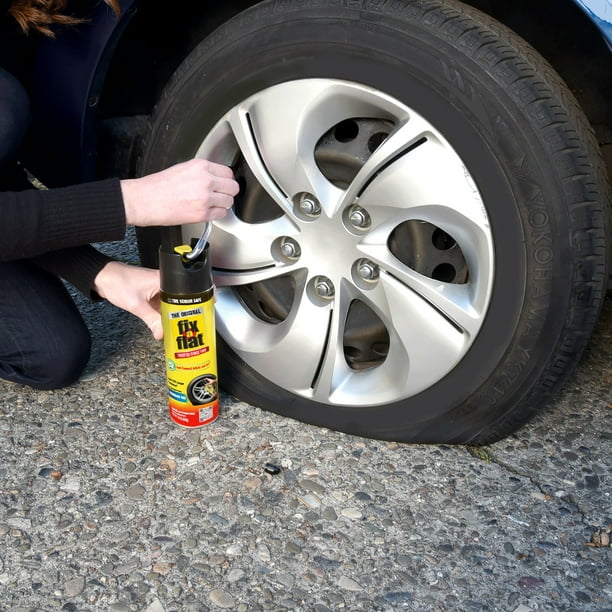 You should always have a can of fix-a-flat (or two cans for larger tires on SUVs and trucks) in your car. You can use it to patch up a punctured tire until you can get to a repair center. However, the can itself has to be warm to dispense, so keep it inside the car, not in the trunk, or warm it over the defroster before using.
Flashlight
Aany kind will do as long as the batteries work. OR may be one that can plug into the phone plugs to charge.
Spare Tire
A spare tire in the trunk fully filled.
Jack

You'll also need a jack if you'll be changing that tire.
Lug Wrench
You'll also require one these wrenches in case of a flat to unloosen the lugs on the tire.
Escape Tool
While no one likes to think about it, it's good to be prepared for the worst. It allows you to slice through seat belts or smash through a car window.
First Aid Kit

If you get a scrape along your travels, you'll be happy to have this kit on hand in the car.
An Old Coffee Can with candle inside and of course matches
another way to stay warm and preserve gas while staying warm. Also having a terra cotta pot that can be placed over the coffee can will radiate heat.
"For additional road safety information check out this guide on Driving at night: safety tips for driving in the dark"